Context Map Canvas (Business Environment Scan)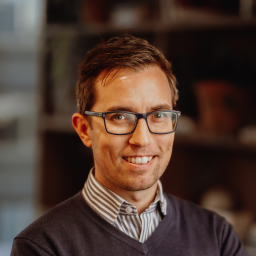 by David Leahy |
2 min read |
January 30, 2023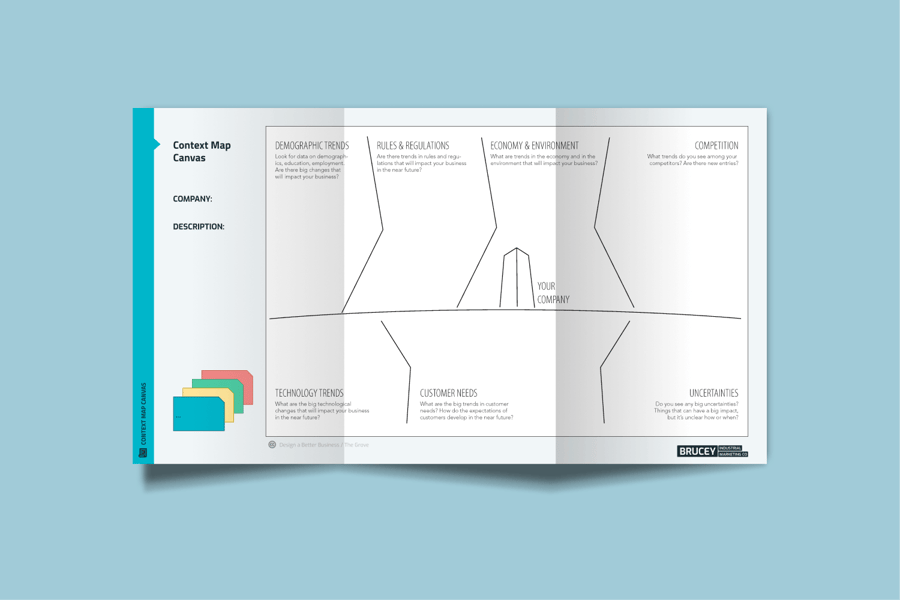 What is the Context Map Canvas for?
The context canvas help you and your team expand your thinking beyond the boundaries of your product, services and organisation, to have a deeper conversation about what's going on in the world around you and what's changing that will affect your business in the future.
Why we like it
It gets better with age - this canvas starts to add real value after you have revisited it a couple of times. The first time using the canvas will serve to capture the top-of-mind external environment trends. As you revisit the canvas - and use it in conjunction with other strategy tools - it becomes easier for team members to add evidence for trends, or to actively hunt for trends that you did not identify the first time. That is how you uncover the dark horses that are not on your organisation's map, but which can have the biggest impact on your future - for better or worse.
LICENCE: Copyright, The Grove
How to use it
The Context Map Canvas is great for working on as a team. Print it out on A1 or A2 and use sticky notes to capture your ideas, or sketch out your thoughts freehand - whatever works best for your team. You can also use the Google Slides template to do the same on a big screen.
STEP BY STEP
1. YOUR COMPANY
Your company is in the centre of the image. Everything that follows should be done in context to your company and the markets you operate in.
2. DEMOGRAPHIC TRENDS
Look for relevant data on demographics in the markets and countries you operate in, such as education, employment, population, etc. What are the big changes in these areas?
3. RULES & REGULATIONS
What policies, rules, and regulations do you think will be applied in the (near) future? What is the government up to? Any new taxes? What is being discussed in regulatory and advisory bodies, or lobby groups.
4. ECONOMY & ENVIRONMENT
What is happening in the economy? And what is going on in the larger environment? Are there economic trends that will impact your business? Are there global changes that could impact local markets?
5. COMPETITION
What about the competition? Take the time to find unexpected competition. Are there new entrants or emerging competitors? Competition coming from alternate sources?
6. TECHNOLOGY TRENDS
What new technological trends do you see emerging that will impact your business? These could be in the form of new or substitute product technology, service delivery methods, manufacturing tools, communications, business systems, etc.
7. CUSTOMER NEEDS
How will customer needs change in the future? Do you see new trends? Do you see any big shifts in customer behaviour? Are there new trends going mainstream?
8. UNCERTAINTIES
Do you see any important uncertainties? Things that potentially have a huge impact but it is unclear how or when?
9. REVIEW
Take a step back, and look at your brain dump together. Spend 5 to 10 minutes discussing what you see. Are there topics that stand out because they are on everyone's radar? Are there any surprise things that a team member added that resonate with the group?
What is on the canvas now only reflects what your team knows today. That means there will be blind spots. You need to uncover them. What areas do you feel are underdeveloped? Things that were more difficult to fill in your brain dump? Things where team members disagreed? Where could unknown trends be hiding? What area will you start researching further?
CHECKLIST
Assign team members to find evidence for or against trends in media.

Get team members to actively look for 1 or 2 blind spots.

Plan a time to revisit the canvas in 2-3 months.
NEXT STEPS
This map should stay 'alive' so you can see how your understanding of the context grows and changes over time.

Inspire your team-members to constantly be on the lookout for things to add, or evidence for or against trends actually becoming reality.

Use the Context Map Canvas with the Business Model Canvas to understand your business model in the context of the external environment it operates in.