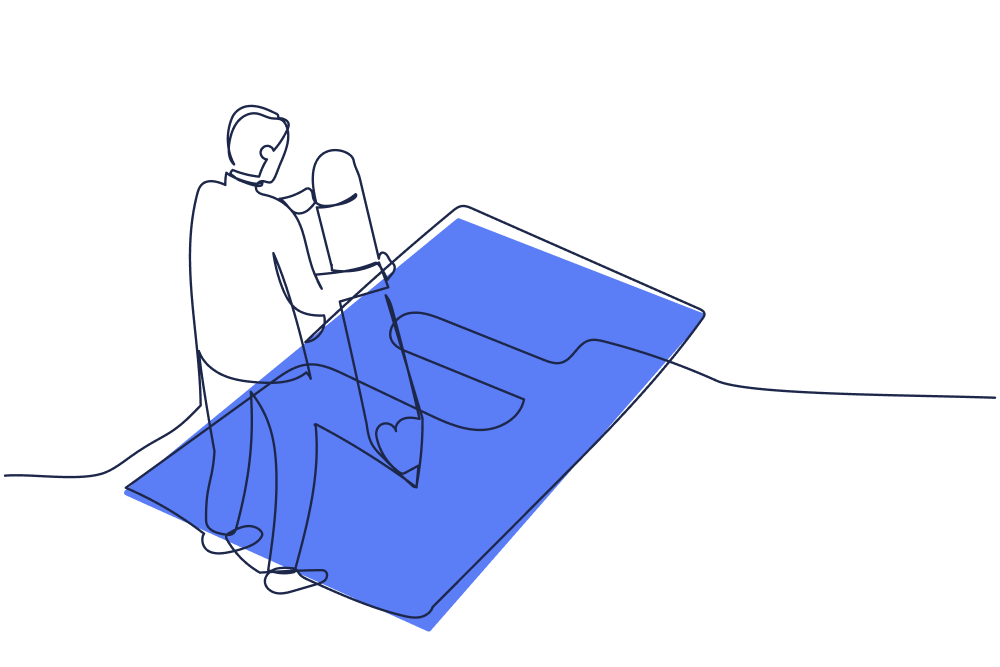 How we create high-performance marketing capability for industrial businesses
Marketing is most successful when you follow three fundamental guidelines: (1) strategy before action, (2) get the foundations right first, and (3) take a balanced approach to short and long term initiatives.
Strategy before Implementation
(and Diagnosis before Strategy)
Marketing is much more than just a bunch of tactical activities that you implement when you realise something is out of date, needs fixing or when sales are down and require a boost.
It's especially easy for businesses who don't have an embedded marketing process (or dedicated marketing resource) to default to this type of approach. They don't "do marketing" all the time, but only when there's an urgent need.
Strategy should always precede the implementation of Tactics.
'Strategy' gets kicked around a lot in marketing, but in essence it consists of three straightforward steps:
targeting - who is the focus of your strategy?
positioning - how are you aligning yourself to the target's needs?
objectives - what are you going to achieve, in what timeframe?
When you can define any strategy in such a simple, actionable and measurable way, there's no excuse to not spend the time required to do this prior to leaping into tactical implementation.
And the way you set effective strategy, is by founding it on relevant insights - not assumptions and bias.
This is where Diagnosis comes in.
Diagnosis similarly isn't something you do only "when you have the time". Nor does it need to be a big research task. You should dedicate at least a small amount of time prior to setting any strategy, to review and diagnose the situation.
In doing so, you analyse in a bit more depth the given situation - be it a single marketing activity, a whole marketing channel or the entire business. And inevitably you better understand:
the current problem/challenge
the future state you want to reach
the benefits this will provide
In summary, the fastest way to greater marketing success is this three-step approach:
Diagnosis
Strategy
Tactics
We build the Foundations first
Marketing is also more successful when you get the foundations right first, just as you would when constructing a building. In marketing, this involves a well-defined plan, key messaging, core assets, and the systems to deliver marketing effectively.
Only then can you implement an effective, sustainable marketing strategy. And have the structure and capability needed to scale as the business grows.
Here's an idea of the phases we work through as our involvement with a given business progresses.
Foundations
We start by preparing a business for sustainable growth. We audit and optimise existing marketing assets, updating the positioning and key messaging where needed. We identify resource gaps and assemble a suite of marketing technology to ensure any plan can be effectively executed. It's a balanced approach that establishes a strong marketing foundation, whilst enabling us to more quickly deliver wins for your business.
Growth
Our focus shifts to activity that will deliver revenue growth. We roll out your content strategy, optimise your conversion paths, align sales and marketing, and leverage opportunities to amplify content. Throughout this phase, we continually experiment, capture insights, validate assumptions and optimise for maximum return on your marketing investment.
Scale
As you grow, we grow with you. We leverage successful marketing efforts, creating more diverse content and refining your process to reach new audiences, new regions and launch new products. We work with you to shape a stronger brand position and marketing strategy for the future of the company.
Balancing the short and the long
The final piece of our approach is helping businesses 'look up'; to not be solely focussed on short-term initiatives and business drivers (3-12 months), but also to spend time and resources on longer-term brand building and business growth (2-3 years).
It is all too easy for your business's marketing efforts to be consumed by short-term, urgent needs such as quarterly or monthly sales targets, negative anecdotal customer feedback, and plenty more.
But an abundance of research and commentary on this topic shows that a balanced approach to marketing on both short-term sales driven activities and long-term brand building efforts leads to the highest gains.
It's not a one-size-fits-all approach, but we help businesses determine what is an appropriate mix for their business to be balanced and performing at their best.
Industrial Marketing Expertise
Why choose Brucey for strategic marketing support?
20+ years
marketing experience
We bring more than two decades of senior marketing expertise across marketing strategy, process, systems and management.
50+ brands
manufacturing & industrial
We've worked with over 50 brands, developing marketing strategy and plans to grow businesses in countries around the world.
100% industrial
including service providers
We're focused on helping B2B industrial businesses (and businesses who service this sector) to become leaders in their market.
Book a Discovery Call
Find out how we grow industrial businesses
Marketing that drives sustainable business growth
Most businesses we work with have growth goals and need help to develop and execute the strategy, such as:
new products or services to launch

geographic or market expansion

an acquisition or merger
For others, it's less about product/market or revenue growth, and more about growing profit or effectiveness due to:
a change in competitive / market conditions

an opportunity to optimise performance

improve customer alignment
If this sounds like you, get in touch to see how we can help you achieve your goals.